Eulogy for Trace Ward, 1958 - 2021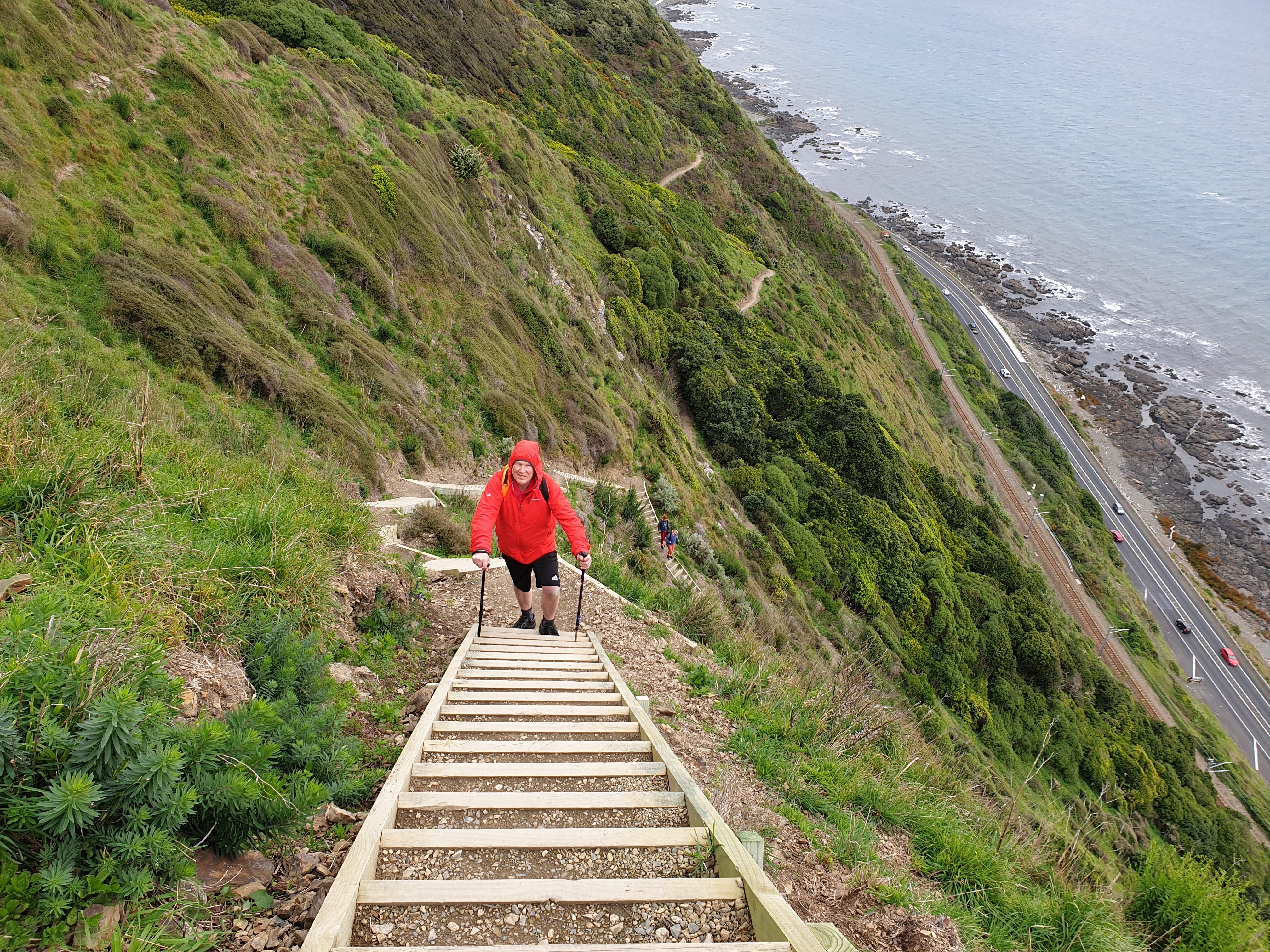 An audio version is also available.
Kia ora koutou, ngā mihi o te ata.

Tracey William Ernest Ward, as he was originally named, was born here in Ngāmotu New Plymouth on the 30th of November 1958, the first born son of Leslie Ernest James and Kathleen Jean Ward. He weighed 6 lb 13 oz.

I am not completely certain where the name Tracey came from, but I seem to recall that he may have been named after the actor Spencer Tracy, with an e being added, because Mum thought Tracy was a girl's name without an e, and a boy's name with one. That would make sense, as Mum had been a huge fan of the film word in her youth, and I was apparently named after producer Darryl F. Zanuck.

William and Ernest were the first names of our maternal and paternal grandfathers. But Trace stopping using Ernest when he went to high school. Not out of any disrespect to our grandfather, but to avoid ridicule; the popular Benny Hill song 'Ernie' had recently been released, and any young person with the name Ernest would have been teased mercilessly. He dropped the y off Tracey some years later and became known to all and sundry as Trace.
Trace was baptised at St Mary's Church, now the Taranaki Cathedral of St Mary. And I plan to light a candle for him there at the Bishop's Eucharist tomorrow morning. This was our church community, but we changed codes and started going to St Andrew's before I started school. I was told this was largely because Trace did not like the Sunday School at St Mary's.

I was Trace's only sibling, born just over six years later. Our age difference was slightly problematic. The main issue for me was that Mum made many our clothes. And if they were slightly unusual when Trace wore them, they were far from contemporary by the time I inherited them.

Our age difference also mean we weren't always into the same things at the same time; when I became old enough to get into more adventurous play, he had become old enough to be more interested in girls and motorcycles. We were never at the same school together; Trace started at Highlands the year I started at Central, and he finished at Boys' High two years before I started there.
Looking back, we were born and raised in very prosperous times. Our father was a Post Office technician and our mother was a home maker – she abhorred the term housewife – and we lived on a large rambling section with lovely gardens - and an orchard. Across the road was Pukekura Park, and the park plus Brooklands was our playground. We had no idea just how lucky we were to have these wonderful places nearby.
After he left school at the end of 1976, Trace wasn't really sure what he wanted to do. He took on a temporary job helping paint Chalmers Home, then started working at what was then known as Egmont Leather & Canvas, which went through various incarnations and is now ELCO Canvas and Heating. He briefly left a couple of times – the first time to live in London, which didn't work out – and each time he came back, and he remained there until he died. Working over forty years in the same job is almost unheard of today. Trace had a good business head, and I understand he was he a key asset of the company. In later life, he made use of his business skills when he became an active part of the market community.

Trace first got married at 22, but that did not last. But probably for the better, because he later met and married the love of his life and I acknowledge Tam and the rest of our whanau who are here today. This is a difficult time for all of us.

So what are some of my memories of Trace?
Although he usually came across as being fairly innocent, he could be something of a trickster and a troublemaker. Like me, but a bit more subtle.
When I was about six or seven, and Trace was about 12 or 13, he taught me an extremely racist and offensive ditty that targeted a particular ethnic group. (I will not say which one. Although they may possibly have celebrated their new year very recently.) Now before I continue, I am not suggesting that Trace was in any way racist; this was the early 1970s, and we did not yet appreciate how harmful such things could be. Soon afterwards, my father brought home a work colleague, who was much higher up the food chain than him, and who also happened to be of the same ethnicity that was targeted by the ditty. Not realising the potential consequences of what I was doing, I repeated it to his face, and our parents' frantic attempts to stop me only encouraged me.
It was only a few months ago that Trace admitted that he had taught me it in the hope I might repeat it at an inappropriate time. But he had not anticipated just how inappropriate that time would be.
Trace had an interesting sense of humour, but it could be a bit scatological at times. On his 40th birthday, he was given a toy flushing toilet that he took such delight in that we bought him another one a year or two back when we saw it in an op shop. He loved a good comedy, and I have fond memories of us laughing our heads of at The Goodies and Fawlty Towers when we were young.

Trace loved music of many genres, especially The Beatles, Pink Floyd, blues, and classical. Although he was open to suggestion; last year I introduced him to Icelandic black metal, and he actually liked it.
And it was through music that I managed to get a prank back on him, for a change. One night in about 1983 when he had come to stay with me in Wellington, I convinced him that we needed to go to Cosgroves, a local bar, because The Stones would be playing there that night. He asked me if The Stones were really playing there, and I assured him they were. But he seemed a little surprised when they started playing. They were The Stones, an alternative band from Dunedin. But I think Trace might have been expecting to see some band from England.
Trace was a person of many interests. amateur radio was a particular passion of his. He started out with citizens band or CB, and he erected a huge dipole antenna at our house. Whanau holiday road trips could get tedious at times because he would insist on talking to any and every contact he could make, which wasn't so bad, but then he would want to stop any physically meet any who were mobile and on the same road. When he advanced from CB to amateur radio, he became very active in amateur radio circles. His callsign was ZL2BS. Which caused great mirth. He maintained his interest in radio throughout his life, but I don't think he was very active in recent years. Probably because he was too busy with other things.

Tramping was another love, and one that we shared, so it was quite handy that Trace worked in a shop that sols outdoor equipment. I think it was in 1977, his first year there, that he gave me my first portable gas stove for Christmas. I still have it.
Whenever he came to stay, and he regularly came to visit, there was always a trip into the wilderness on the agenda. Religion and spirituality was another passion we shared. Trace was and I am very active in our respective faith communities, but we belonged to very different denominations of the Church. Trace was of course part of the whanau here at Citywestchurch, which is part of the Pentecostal tradition, while I am a progressive inclusive Catholic Anglican preacher and writer on faith issues. But we respected and were interested in each other's perspectives, meaning our tramping trips often included deep and meaningful conversations about subjects like atonement theory, soteriology, sacramental theology, eschatology, what parts of the Bible were more literal and what parts were more allegorical, and the canonical status of the deuterocanonical books of the Hebrew scriptures. I will really miss these.
Whanau was very important to Trace. And so were all other people. If I were to sum up the core principles of my faith, it would be that Jesus the Christ gave us two simple commandments: to love God, and to love others. This is the gospel; all else is commentary. In the Older Testament, these two commandments are in separate books of the Law. It took Jesus to bring them together. And I would argue that these two are so powerfully linked that it is by showing our love for others that we show our love for God.

Now while I may try to live by these values, as much as I try, often I don't succeed. But I can't say that about Trace. It wouldn't be difficult to think of anyone else I have known who better lived out the core teachings of the gospels.
Trace was always doing things for us and for other people. Sometimes I would worry he had no time for himself. I used to wonder whether that he was doing so much for his community that he was getting taken advantage of. But then he would send me photos from his latest bike ride or tramping trip, and I would know he was trying to care of himself as well.

The second to last time Trace came to stay was in September. I was a little concerned, because he seemed to have less energy than he used to. We walked the Paekakariki Escarpment Track, a very steep and exposed walk between Pukerua Bay and Paekakariki. He had previously partly done it and wanted to complete it. But I noticed he was tiring easily and needing to rest regularly. But while I was concerned, I was not overly worried; I figured that, like me, he might have lost some form during lockdown. Of course, I now wish I had urged him to get himself checked out.
His final visit was last month. This time, we did not go for a long walk. But I did take him for a long drive. Part of our journey was the narrow and windy Takarau Gorge between Johnsonville and Makara Beach. I had not been there for nearly 20 years and I had forgotten just how narrow and windy it was, while Trace had never been there, but had seen it on a map and had been curious to explore it. Even though it was sealed, the road was pretty scary, but Trace offered helpful advice. I learned to drive later in life than most people, and Trace was the person who accompanied me on my first long distance drives, including the first time I drove to Taranaki. Which happened to be in atrocious weather.
Last Monday was a holiday due to Waitangi falling on a Saturday. Natalya and Maria wanted to go into Wellington. They were going to get the train, but I convinced them to let me drive them in instead. They wanted to look at stuff like shoes and women's clothes. I couldn't imagine anything more boring, so I dropped them off and arranged to pick them up later. My primary mission for the day was to explore some of the former military sites around Fort Dorset and Palmer Head, where our parents were based during the Second World War, and report what I found back to Trace.
But on the way there, I decided to drive up to the Brooklyn Wind Turbine. It had probably been over 20 years, since I had been up there, and I did not remember just how narrow and windy and steep the road up there was. I remembered my trip through the Takarau Gorge with Trace the previous month, and at that point I felt like I could hear him guiding me up the hill, advising me to slow down and speed up at various points, to help me avoid encountering oncoming traffic on the tightest corners. I later worked out that this would have been around the time Trace died, and I feel like he was guiding me as well as giving me one last driving lesson.
Receiving the news later that day that Trace had died was a complete shock to the system. It was totally unexpected.

Trace and I had lost both of our parents. Our father died in 1994, but he had been very unwell, and that was the inevitable outcome. And our mother died not quite a year ago, but she was 99, so that was not a great surprise either. But Trace was fit, active, and healthy – or at least I thought. And he was only 62.

As horrible as it is, we expect our parents to die before us. They are the past of our whanau, and they are born before us, and so we expect them to die well before us.

Those of us who are parents worry about our tamariki and it is understandable to occasionally entertain the possibility of something terrible happening to them. Even though thankfully it usually doesn't. They are the future of our whanau, so we expect them to die well after us.
And it is also natural to worry about our partners and the possibility of losing them.

But how many of us have ever given much thought to something terrible happening to one our siblings when they are seemingly in good health?
I have to confess I had never thought about it. Yet our brothers and our sisters are our closest relatives. They don't precede us like our parents or succeed us like our children. They are from the same generation as us, and no other family members usually know us for so long. Not even our spouses, whom we don't usually meet until we are adults.
Our brothers and sisters know all our childhood secrets, and if we have kept close, they know us better than anybody else. At this point I will say I would be lying if I said Trace and I never ever had any differences. But we always resolved them.

Trace was my only sibling. And I am now having to get used to the fact that I am now the only one left out of the whanau I grew up when, when one year ago there were three of us. It is going to take a lot of getting used to.

As I was trying to find the words to finish this whakamihi, I looked up at the two pictures hanging on the wall above my desk.
One is an original of Taranaki Maunga from Lake Managamahoe. Lake Managamahoe is a very beautiful place, which was very special to our whanau. But it was also the place where Trace died.
The second is a large framed print of Vincent van Gogh's 'Starry Night'. This is my favourite painting, and I believe it was Trace's too.
I was reminded of the song 'Vincent' by Don McLean, which was about Van Gogh and referred to directly to this painting. It also used to be Trace's favourite song.
'Vincent' has beautiful lyrics, including this gem, which I will close on: "This world was never meant for one as beautiful as you."
ZL2BS, silent key.
Eternal rest, grant unto him O Lord, and let light perpetual shine upon him.
May he rest in peace and rise in glory.

Darryl Ward
15 February 2021
An audio version is also available.