A modern Christmas miracle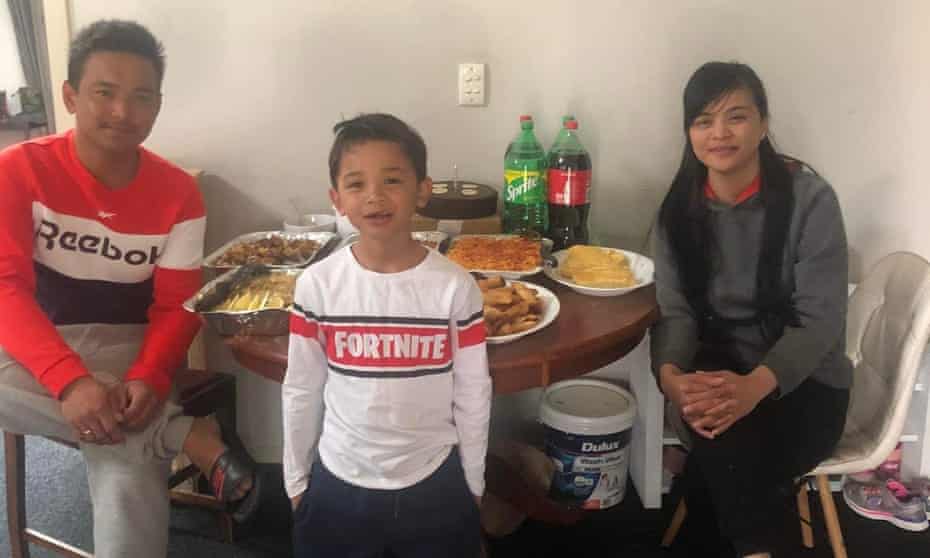 Based on John 1:1-14
Kia ora koutou, ngā mihi o te ahiahi.
Last night I was catching up on the news – something I hadn't done for a few days – when a story caught my eye. [1] I read how Jeffrey Santos – a carpenter, his wife Marjorie – a nurse, and their seven year old son James, a Filipino family who have been living in Cromwell, with dreams of settling in Aotearoa New Zealand permanently, were to be deported tomorrow. On Christmas Day.
This was not without a reason. Jeffrey had been out of work during the 2020 Covid-19 lockdown. But being a migrant worker, he was not eligible for income relief payment or similar assistance. Acting out of desperation, so that he could feed his family, he used a false address to claim $1,600 worth of food vouchers. But his actions caught up with him, and in September, he was convicted in the Alexandra District Court of using a document for pecuniary advantage. And the family was subsequently issued with a deportation order.
Now I am not condoning Jeffrey's actions. But as one who has not exactly led a blameless life, I cannot condemn him. And dare I say it, I could not completely rule out doing the same thing myself if the only alternative was my family starving.
And nor am I saying that we should have to let people who badly transgress here stay here. But I do believe that when there are extenuating circumstances, they should be taken into account. And that we cannot have justice without mercy.
However, the main reason I am telling you the story of the Santos family is the irony of a family facing deportation on Christmas Day, a day when we remember significant events in the lives of a family of Palestinian Jews, far away from their usual surroundings some two thousand years ago. Whose husband and father was also said to be a carpenter. (Although it is likely Joseph was more of a general labourer than specifically a carpenter. But I digress.)
You will all know the story of Mary and Joseph travelling to Bethlehem, where baby Jesus is born in a manger. I do not need to repeat it to you this evening.
They were internally displaced. They were homeless for some time. They were poor, dark-skinned, Palestinian Jews. They were almost certainly uneducated and quite possibly illiterate. And they were refugees; the Gospels tell us how they fled to Egypt to escape from the wrath of King Herod. [2]
Just the very kind of persons that some people in certain countries who loudly identify as Christians want to keep out; I recently read that a Texas politician apparently said that they did not have time to deal with a current Palestinian refugee, because – wait for it – they were too busy preparing for Christmas. Regardless of whether the particular account I read was entirely accurate, it cannot be denied that there are people who actually think like that.
So, what is the real significance of Christmas?
Tonight, we did not hear that familiar account of the birth of Jesus that we all know so well, and which I referred to earlier. Instead, we heard those wonderful words from the opening of the Gospel according to St John, which is often referred to as John's Prologue.
This tells us how Jesus is the Word made flesh. The Word of God spoken into life, just like God spoke the heavens and the earth into life in the first creation story in the Book of Genesis.
Jesus is both divine and human. Both almighty God and a vulnerable little baby.
So why does a child who is the very incarnation of God born, live and die in such humble circumstances? It is because through him, all people are reconciled with God, but for this to happen, God has to become fully human, and this means experiencing the joy and sorrow, pleasure and pain and high hopes and broken dreams that are part of human life. Including dying. But his death is one over which he ultimately triumphs with his resurrection, and his resurrection brings hope to us all.
His birth and the hope that it brings us all is what we are celebrating tonight.
While the world is radically altered by the incarnation of the Christ two thousand years ago, it is obvious when we look at the state of the world today, that the God's involvement with us is not yet finished. God's Kingdom may have begun to manifest itself in human affairs, but its full extent is yet to be realised. The world may still be broken, but it will be completely healed in God's time.
Jesus is the literal embodiment of God's love revealed, a helpless baby sent to set us all free.
Yet all too often, we do not follow his ways of justice and peace. And we can lose sight of what Christmas is really all about.
So if we can look beyond the frenzied and commercialised version of Christmas that currently surrounds us, and the stress it brings, which is exacerbated by the uncertainties caused by factors like the Covid-19 pandemic and the fear and anxiety the new Omicron variant in particular is unleashing, and focus instead on the birth of the Christ child, whose life, death, and resurrection bring hope to us all, that should provide some respite from all the chaos. And remind us that no matter what our circumstances may be, we really do have something to celebrate this Christmas.
I began my homily tonight with the story of the Santos family facing imminent deportations.
Well, there have some been new developments. Just a few hours ago, I read that the Associate Minister of Immigration Phil Twyford has now granted Jeffrey Santos a character waiver, which overrides the family's immigration deportation order and extends their stay for another 12 months. [3]
In interview with Stuff, Jeffrey Santos expressed remorse for his actions and said he was thrilled to be staying in Aotearoa New Zealand.
"We are speechless. I am very, very thankful to be staying here."
When asked how they would celebrate Christmas, he said: "We can do anything we want here now. We are so happy to stay."
That's the kind of modern day Christmas miracle I believe in.
In these testing times, it is reassuring to have a positive Christmas story to share. Especially one that has some parallels with the story of the Holy Family and what they endured 2,000 years ago as refugees, because it helps bring their experiences to life for us.
Ngā mihi mō te Kirihimete. Have a very Happy Christmas.
Darryl Ward
24 December 2021
1 https://www.stuff.co.nz/otago/127367060/filipino-family-in-nz-to-be-deported-on-christmas-day-for-mistake-made-in-desperation
(accessed 23 December 2021)
2 Matthew 2:13-18 (NRSV)
3

https://www.stuff.co.nz/otago/127379276/early-christmas-gift-for-santos-family-as
immigration-nz-overturns-deportation-order
(accessed 24 December 2021)
All Bible references are from the New Revised Standard Version (NRSV) unless stated otherwise.