Come to the river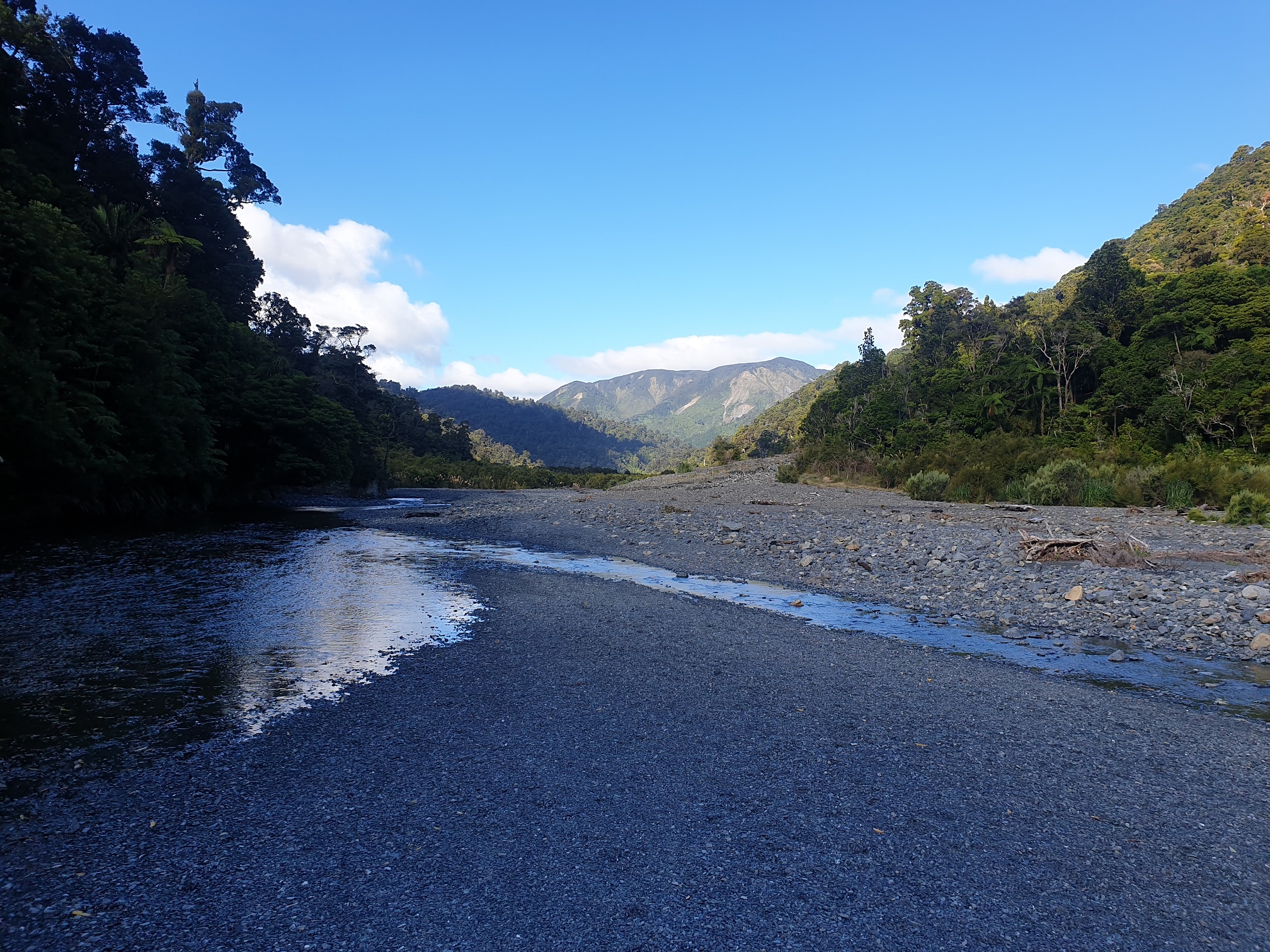 Based on Luke 3:15-17, 21-22
Something I am very grateful to Willie [the presiding priest] for is introducing me to the Orongorongo Valley. He had long regaled me with stories of his hut, which sounded downright luxurious for a hut in the bush, and he frequently invited me to come in, but for various reasons I was never able to make it. Until Labour Weekend in 2019. I had planned a three day trip into the Tararuas, and I was pretty much all packed and ready to go, but I pulled the plug because of concerns about weather. I had intended to set out on the Sunday morning, so I found myself here in church instead. After the service, I was lamenting about my cancelled trip, and Willie said he was going into the Orongorongos that afternoon, and would I like to come? I was off work the following two days, so of course I did.
That afternoon we set out to Catchpool Valley, walked the well graded track to the beautiful Orongorongo Valley, and then followed several other tracks until we reached Willie's well secluded hut. It was very well equipped. He had not been exaggerating. After a shared meal, I slept well on one of the bunks, and the following day attempted to climb Mt Matthews, turning back because of very strong winds, and then camped down by the river, I have since been back another nine times. In fact, I just got back from my most recent visit late yesterday afternoon, after spending a lovely night at my favourite campsite. Well it was lovely apart from the absolute racket the possums were making just a couple of metres from my tent.
However a visit back in July was not so serene. I checked the river flow online before I set out, not realising the monitoring system was down and giving a false reading. I had decided to walk up the river instead of the track, as that was more direct, although this meant having to make three river crossings instead of the one I would need to take if I went the longer way. But when I approached the river, it was obvious that the river was running very fast. It was no deeper than knee deep, but the current was very strong, I had to be very careful, and I soon realised I really didn't know what I was doing. The second and third crossings were marginally less frightening, and I got to my campsite to find it was a quagmire. There was no way I would be setting up camp there. I visited my other campsite. It was better, but it was not very inviting. I checked some other possibilities, and none of them were suitable. I had now made multiple river crossings in very marginal conditions, I really didn't want to make any more, and I reluctantly accepted the best course of action was to head back to the carpark before the gates were locked.
When I was making those tricky river crossings, I was all too well aware that drowning is the second biggest reason for people dying in the wilderness in Aotearoa New Zealand. Only falls claim more lives. Not only that, drowning is our leading overall cause of recreational death, and our drowning rate is double that of Australia's. And drowning in rivers was so frequent in colonial days that it was known as 'the New Zealand death''
My awareness of drowning is very personal. I had an incredibly narrow escape from drowning many years ago, and my father also nearly drowned many years earlier. One of my best friends actually did drown, while trying to make his way home to his yacht on Porirua Harbour after a night of merriment. And another friend lost his young son to drowning a few years back, when eyes were taken off him for just a moment.
I can't afford to support every cause and charity in Aotearoa New Zealand. Last time I looked – admittedly a few years ago – there were something like 26,000 registered charities. One cause I do support though is a programme at our local aquatic centre that enables you to pay for a swimming lesson for a child whose whanau cannot afford it. I digress. But I will say that my experiences that day in July prompted me to go on a river safety course, something I had been thinking about for a long time.
Today is the day the Church observes the baptism of Jesus. It is a day whose significance cannot be underestimated. Jesus' baptism is said to be one of the five major milestones in his life, along with his transfiguration, crucifixion, resurrection, and ascension.
Baptism is of course one of the two sacraments recognised by the Anglican Church as being commanded by Jesus, the other being the Eucharist, so it is probably very timely to offer a very quick refresher on what a sacrament is. While possibly the most popular definition of a sacrament is an outward sign of an inward grace, and we can thank St Augustine of Hippo for that, I prefer to define a sacrament as something that both divine and material in nature, something that brings the spiritual and the physical together. A place where heaven and earth come together. Where the divine and the material meet.
They meet when Jesus is born, both fully divine and fully human, "And the Word became flesh and lived among us" [1]
They meet when Jesus is baptised; in today's reading from the Gospel according to St Luke we heard, "21 Now when all the people were baptized, and when Jesus also had been baptized and was praying, the heaven was opened, 22and the Holy Spirit descended upon him in bodily form like a dove. And a voice came from heaven, 'You are my Son, the Beloved; with you I am well pleased.'' [2] They meet we are baptised, and become members of Christ's body on earth, the Church. And they meet when we encounter the risen Christ in the Eucharist.
That is how I believe sacraments work. They like are a portal between the divine and the material. But for Jesus to institute them, he had to participate in them first. He had to submit to the baptism of St John the Baptiser, a rite of repentance for Jews who wanted to mend their ways, to sanctify the water and transform it into the sacrament of baptism. Just like he would later sanctify a meal with friends and turn it into the sacrament of the Eucharist.
No surprisingly, I cannot think about the baptism of Jesus without thinking about water. But rivers in particular. Hence my long introduction. Jesus is of course baptised in a river. And we are often told of the life-giving nature of water. A fitting comparison given we can't live without it. But as we have seen, water can also be sinister and dangerous. And maybe I am imagining it, but there seems to be something especially dark and mysterious about rivers.
So it makes sense Jesus is baptised in a river and not some other body of water. This is a major turning point in his life, and a very dangerous move. It is when Jesus the inconspicuous working class man becomes Jesus the rebellious teacher, whose radical teachings put him on a collision course with the religious and political authorities of the day, but whose life, death, and resurrection will bring hope to all of humankind. He is leaving a simple but relatively safe existence to travel a treacherous path for the relatively short remainder of his earthly life.
And if we want to follow him and live up to this it means, we need to be mindful that this is a path that has its snares and toils. Being a follower of Jesus can be dangerous. We are often told to "take a risk" for him. But sometimes those risks don't work out as envisaged, and people get hurt. Unfortunately, we don't tend to get warned about the likelihood of the latter. And some people have lost their faith after being burned by the Church; I am sure I would have told you the story of how I stopped going to church and stopped identifying as Christian after being exposed to toxic fundamentalism in my teens. I came back 20 years later. But many don't. And this is very sad.
So why would we want to follow Jesus if it is so dangerous? Why should we even bother? That is a very good question. I can only answer for myself, but I want to play my small part in building up God's kingdom and the establishment of justice and peace here on earth. My meagre contribution is tiny. But it is incredibly rewarding to be part of it.
The road may be long, and the journey may be challenging. And there will be many rivers to cross. But we will get there. And whatever trials and tribulations we may face, we are all set free by the life, death, and resurrection of Jesus the Christ. So let us go into those dangerous waters, safe in the knowledge that one who has gone before us is there to guide us.
Darryl Ward
9 January 2022
1 John1 :14a
2 Luke 3:21-22
All Bible references are from the New Revised Standard Version (NRSV) unless stated otherwise.